Fitting Guide – How to find your bra size
The following are guides to help you find your bra size and if your bra fits comfortably.  They have been provided by our suppliers who are a longtime in the lingerie business.  While their guides are helpful – its not the same as trying a garmment on.  If a customer comes to our shop for a fitting, we can offer many different styles and brands of the same size to try on.  Every person is different and there is no doubt that some brands and styles will fit better than others.  If you do make an online purchase and find that you are nor happy with the fit – we will be happy to refund or replace the garment in accordance with our returns policy.
Provided by Triumph International
Video provided by Triumph International
An uneven shape, an unpleasant pinch – there are several tell-tale signs of an ill fitting bra. Your perfect fit will come with no niggles, no annoyances, just all-day comfort and we're here to help you find it.
You shouldn't over tighten your straps to achieve the uplift you crave. 80% of the support in a bra comes from a well-fitting underband – not the straps.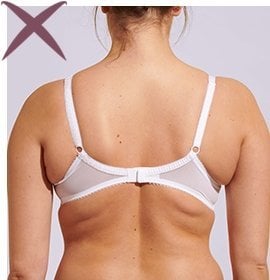 If your underband rides up, or if you can pull it more than an inch from your back, then it's time to size down!
The centre front of your bra should sit flat against your ribcage. If you have a gap, try a larger cup size.
The underband should sit firmly around your ribcage, level at the front and back and parallel to the ground.
The correct band size will sit snugly and not move whether you raise your arms up or have them by your side. Try lifting your arms, if your underband is lifting away from your chest, your band size is too big.
The correct cup size will give you an even, rounded shape. The underwire should extend fully behind your breast tissue.
There should be no bulge or squashing under the arm and no dreaded quad-boob in sight! If you're spilling out of your cup a little or a lot, try a bigger cup size.